The Questions About Grenfell Fire Everyone is Asking but No-One is Answering
On Wednesday the 14th of June residents of the Royal borough of Kensington and Chelsea along with neighbouring areas woke to the news and horrifying sight of Grenfell Tower, a 1974 (KCTMO) 24-floor council building, brutally ablaze. Fire services struggled to put the fire out, and for over 12 hours horrified residents watched as the fire slowly and sinisterly engulfed the building from the outside in, and from the bottom upwards. By sunset Londoners from near and far had empathised and haphazardly organised support for the local residents, with donations pouring in to local religious and community centres. The sense of community and coming together was truly touching, but the feeling of shock and grief hung turgidly in the air.
Questions quickly arose as to who was to blame and how the situation could and should have been handled differently. Over the passing days, public consciousness was awakened, and it has become clear that the tragedy of Grenfell Tower is primarily a class and race issue, or more generally, a pressing political issue – and a prominent signifier of Britain's dire social housing crisis.
The cyclical irony of the fact that this council building was erected during the austerity-driven Thatcher administration, and less than a week before this tragedy, Britain had been divided by an election campaign which offered a choice between a similar administrative power or a socialist sympathising Labour party, is obvious and not lost on us all still coming to terms with this terrible tragedy. One has to wonder whether May would have narrowly made that margin had the timeline of these two events been reversed?
The media are still stubbornly huddled around the site, insensitively skirting around the real questions and real answers, that those immediately affected by the disaster desperately desire. Why were the proper safety precautions not put into action, both when building the structure and during the incident? Where are the survivors being kept currently and where will they be housed? Who within the government and council should be held personally accountable for the massacre? And most importantly why is the investigation progressing at such a slow pace and being relayed with such a lack of clarity? Why is this whole situation being mishandled in such an appalling way?
If you head down to the area looking to volunteer you'll most likely be told you're not needed. Social media has rightly enthused and motivated many to get involved, the droves of donations that came and continue to pour in are a beautiful reminder of the public's humanity, but ultimately the elephant in the room appears to be that there are simply too many donations for the number of survivors currently accounted for. Three days on from the incident, we must now come to terms with the fact that those earmarked as 'missing' are almost certainly dead.
How can we meaningfully help?
Go to the affected area. You may not be needed with the hands-on stuff you expected but there are so many grief-stricken community members who need an opportunity to be heard, a shoulder to cry on or a handheld.
Those with specific training in PTSD are a necessity. I encountered an acupuncture team offering free treatment to anyone shaken by the situation. A team of child psychologists from Switzerland have also been flown in to help the young community who witnessed the fire recover from the inevitable trauma. These are non-government funded programmes that concerned citizens have collectively coordinated due to the lack of support offered by the administration.
Check the credibility of donation websites. There is scepticism amongst the community that the monetary donations occurring via the Internet won't actually reach the survivors, as their current and forthcoming whereabouts are widely unknown. Therefore I'd urge you to be careful and check the credibility of these websites, and if possible go to the area and give your donations directly to community leaders who will ensure it ends up in the correct hands.
Stay angry at the injustice and get involved in the upcoming protests. Pressure must be put on the government to ensure justice is met (21st June- beginning in Shepherd's Bush, 1st July- outside the BBC building).
Write letters to your local MP and direct to the Prime Minister. Encourage the government to reverse Theresa May's decision to carry out the investigation as a public inquiry rather than as an inquest in order to ensure full culpable visibility. The legal process must be carried out by by an impartial committee and not the government.
Mention the names of officials in your letters to the government. The affected community have collated a list of officials they believe to be responsible for the incident, mention these names in your letters to the government so that they're made aware that the public has access to this information. Air your grievances and anger directly to those listed in the hope that they actually get convicted. Over the coming weeks, as the investigations and volunteer work continues, and the death toll rises, the charred and macabre monolith that was Grenfell Tower- home to nearly 700 people- will loom ominously over the Queen's borough as an unflinching reminder of the real victims of 'austerity England' and capitalist ideology. And maybe it should remain there, in memoriam of those who were unjustly lost, and to serve as a morbid monument for the day we all woke up and said: Enough is Enough.
Originally commisioned for XXY magazine
In Conversation: Jordan Stephens, Masculinity, Male Privilige and the Contemporary Cultural Crisis
Jordan Stephens is best-known for being half of the urban music group Rizzle Kicks and has since made forays into acting, poetry, producing and script-writing. Constantly in motion and deep in creative thought, I sat down with Jordan to talk about his philosophies and what he's been up to lately.
Charlie Siddick: In your work and through your social media you seem to be striving towards and promoting a new notion of masculinity and are simultaneously unapologetically pro-feminist, where does this stem from?
Jordan Stephens: I think that if you're a man, especially if you're a rapper or in a position of masculine authority, it's easy to stay silent on such matters as you're directly benefiting from this warped gender dynamic. I was brought up by a strong woman and although my dad was around, he never tried to toughen me up or project traditional masculine values upon me.
I'm not inclined to falling into believing things blindly, and that's something my mum inscribed in me; to continually ask questions and not to automatically accept authoritative constructs. I think as humans we all have to 'un'-learn things, the stuff we've been taught by the media, or academic institutions, and even our parents. My mum brought me up on a Native American spiritual tradition, which is open-minded and against materialism, it's about learning lessons from, and being true to, your personal concept of morality and human connections rather than those passed down by your society.
On Mother's Day you put out a poem discussing femininity, it was really powerful and moving, to the extent that when Thandie (Newton) and Kay (Montano) posted it on their Instagram (@thandieandkay) some men got really angry and assumed it was written by a hardcore feminist female! How did that poem come about?
I had this moment during an interview for a Radio 4 documentary about love and it led me to write this poem about women for Mothers Day. The producer asked me, when do you think men's depiction of love is going to change? And I said, men will only understand how important love is if it's taken away from them. Then the more I thought about it, the more aware I became of the privilege that men are born with: the privilege of always having the love of their mother. One of the lines in that poem is, 'A male murderer's mother will still make him dinner', this is obviously hyperbolic but there is just this thing — a mother's love — that men will always have and soon feel deserving of.
'I think that's a huge part of the problems associated with privilege, not even realising you have it.'
I tend to find even the most open-minded and liberal men find it hard to admit to their masculine privilege, why do you think that is?
A lot of people don't need to question their privilege because it benefits them and is simply such an intrinsic part of their existence that they don't even notice it. I mean, privilege is essentially invisibility. I think that's a huge part of the problems associated with privilege, not even realising you have it.
I guess I've been subconsciously asserting my male privilege since birth, but when I do become aware of it or try to change it for the better, I don't really find myself losing anything. I think that is the fear, in the process of making things more equal and balanced between different sexes, someone loses and someone gains and for many men the idea of loss is impossible, which I think links back to their having had the unconditional love of their mother.
You just finished filming a role for a film called Tucked in which you play a transgender female, how did that come about?
It was weird rhythmically because I'd written that poem, and had been speaking more and more to people about gender, sexuality and fluidity, with me kind of identifying with a polyamorous kind of orientation. So yeah, it came at a weird time, and I said yes because it felt right. I didn't really have any idea of what the film might be, but I liked my character, and it's interesting to have had more of an insight into the sensitivity and vulnerability that transgender women associate with.
Obviously Moonlight was hugely successful and also explored LGBTQ issues, do you think stories like these will become more common?
Moonlight was exploring black experience, masculinity and sexuality, and that's literally the reason why Tucked got funding, so yeah I reckon subject matters such as these will become more common. I guess it's 'in' right now. I was speaking to someone earlier and they asked me if its got anything to do with capitalising on gender struggles and race issues that many people face, but I don't think it matters. I'd much rather people were discussing these things than ignoring them and could lead to a 'ceiling coming through' situation.
Moonlight and Get Out are examples of the ceiling momentarily breaking and I think that's why so many white men are angry because they're not used to it. But I'd love to live in a world where the 'in' thing in cinema is progressive cultural ideas. Unfortunately, there's every chance that the next Oscars is another whitewash.
'…in this time of mass-accessibility people seem to connect less; connect less to people and connect less to knowledge.'
You've set up on online platform called Bad Colour, which you've described as essentially the 'promotion of critical thought' tell me more about it?
It's a response to our modern distractions, in this time of mass-accessibility people seem to connect less; connect less to people and connect less to knowledge. One phrase I repeatedly hear from people I love, my family and friends, is 'sometimes I just want to switch off.'
That idea blows my mind. I think quite often its said in passing, without thinking about its ramifications. What it suggests is: I'm going to watch television or scroll through some social media platform and stop thinking. To switch off as you scroll through social media or watch television allows you to accept all that you see and allows everything you see to permeate into the way you see yourself and the world on a subconscious level.
Bad Colour forces people to think about what they see, to consider the way they see things, and to help people to think freely for themselves and to come to their own conclusions. People will feel empowered through this. Bad Colour utilises the creativity of people around us and challenges the viewer to question their gaze and asks them to participate in the consumption of art. Our upcoming event features photography by the Young Poet Laureate Caleb Femi and a new music video by myself as Al, The Native. Bad Colour is inclusive, interdisciplinary, and aims to motivate and empower everybody.
Originally commisioned for Blue Milk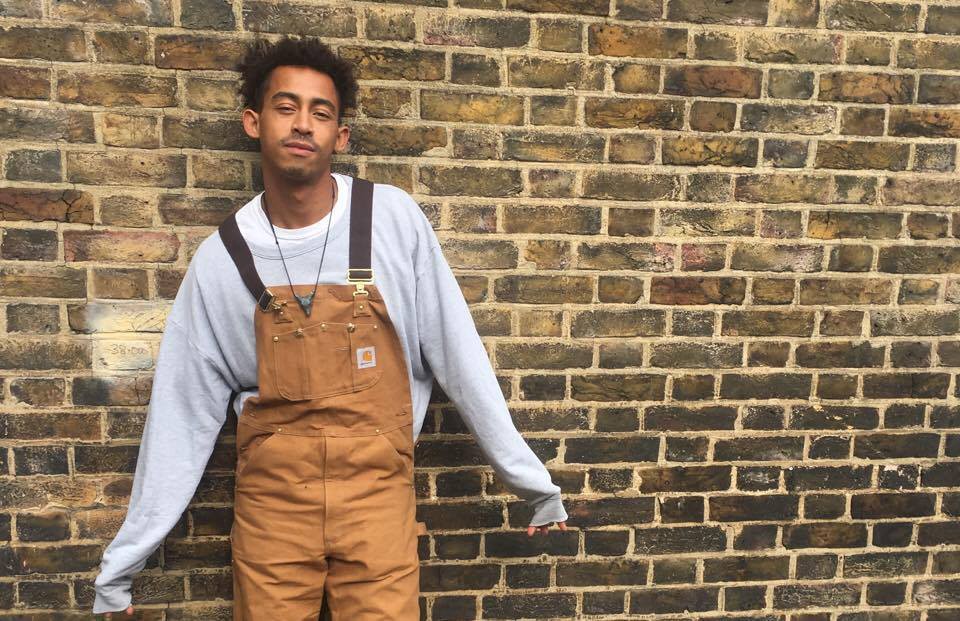 Being Millenial
"I am a world citizen. All human history is mine. My roots cover the earth. I believe we should know each other. After all, our lives are all connected." – Jim Haynes, Inviting the World to Dinner.
I am a millennial– a part of 'Generation Y'.
Historians Neil Howe and William Strauss coined the term in 1991, and it roughly encompasses anyone born post-1980, generally acknowledged to be the children of the post-WW2 'baby boomers'.
I don't know if it's a term I'd easily identify with.
We're unwittingly grouped and defined as a collective entity; a subgroup of society supposedly wanting the same things and possessing the same inflated sense of entitlement and obsession with self-worth.
Howe and Strauss determined what appeared to be unique about our generation such as being raised with more structure and protection in comparison to our preceding Gen X Baby Boom parents.
Apparently, we tend to shy away from our ascribed millennial title; it's seen as a negative personality trait, encompassing the social-media-driven, narcissistic, aesthetically obsessed, shallow, Kardashian worshipping notions of modern living.
Such notions, I can't fully relate to, or maybe I just don't want to accept such obvious deficiencies within myself. And indeed my defensiveness may well be a product of my cultural conditioning, as Howe observed:
"One person's narcissism is another person's healthy self-esteem."
On that note-back to me.
I am the privileged daughter of middle-class parents, who made their fortune in the financial sector.
Both started off from working class backgrounds and became shining examples of those success stories I associate with their generation, enjoying the enormous economic prosperity of the 1980s, greater job security, upward social mobility, and easier career ascension.
The recession of the late-1980s didn't hit millennials too hard, and for me, this is where this (false) sense of security and stability that Howe and Strauss refer to derives from.
Not for one second am I saying it was 'easy' for them, just that many in my generation feel as if the odds are stacked against us, rather than in our favour (another millennial trait?).
So before you think I'm a moaning millennial, let me elaborate. For my parent's generation, a university degree or any further education was generally considered to be a major means of differentiation within the job market, and committing to further education via your specialist subject meant that you stood a decent chance of garnering career security.
How has this changed for millennials?
Well, we are the most overeducated young adults in history in a climate of chronic unemployment and soaring living costs on a level previous generations have never seen.
The positive thing about this scenario is the idea that we are no longer looking at doing one thing forever and like most of my friends, I don't define myself by a single career objective.
I have multiple jobs and projects, and if I'm not busy it feels as if I'm not doing enough or reaching my full potential which isn't so positive. We're constantly comparing our endeavors against one another, and a lot of the time, I feel as if I'm falling short or spreading myself too thinly. Which I suppose is why it's unsurprising that us millennials are the most depressed young people the world has seen, with the highest suicide rates and cases of mental illness on record.
Which I suppose is why it's unsurprising that us millennials are the most depressed young people that the modern world has known, with the highest suicide rates and cases of mental illness on record.
In an impressively accurate prediction by Kylie Jenner, 2016 was to be the year my generation began 'realizing things'. Worldwide we saw events that disrupted our sense of civil liberty and freedom, the blow of Brexit hit my generation hard, and for a time it felt as if our future and our children's futures were to be irreparably jeopardised.
For me, during the aftermath, daily life took on a distasteful and irresolute haze. Many took to Facebook or Instagram to vent, and logging on and checking into social media felt like you'd wandered into the midst of a gory battleground, suddenly people had exposed their true 'self' and cyber rants translated into fractured 'real-life' relationships.
For millennials, so much of life is exaggerated for better and worse via the net.
Fast-forward to Trump's shock election 'win'. I felt social media activism to be pretty redundant in the grand scheme of things because it's not enough to just say you're angry- you have to show it.
The tyrant who appeared to enjoy the notion of social separatism was welcomed into office with a major show of unity, love and togetherness.
On the 21st of January, the Women's March became the largest civil rights protest in modern history, and those who took part were of diverse age groups, gender and social strata, but at the helm of the organisation was Generation Y-millennials!
Previously seen to be politically apathetic, we're now enlivened and enraged. The issue of women's rights- a historically painful trajectory, which has taken time and perseverance, is under threat and we're not standing for it.
The current atmosphere of political separatism and nationalism that has heightened sexism, racism, xenophobia and homophobia is truly terrifying to behold, key tenets that were fought for us, by previous generations.
I grew up hearing stories from my dad's past, repulsive racist incidents that he encountered growing up as a mixed-heritage kid in King's Cross during the 60s, and worse when he travelled to Atlanta during the grips of the black civil rights movement.
They make my heart ache and my stomach sick, and whilst they're ingrained within my personal heritage and sense of self, they can still feel distant and detached. It wasn't now.
That's where this perception of political apathy derives from I think, we took such basic civil liberties for granted, 'civil rights movements' appeared to be firmly entrenched in historical rhetoric, rather than an urgent necessity for millennial living.
In these dark and confusing times, we need to make the effort to try and understand one another's opinions, celebrate our similarities and differences as indices of our human nature.
I don't believe social media encourages such conversations but instead engenders separatism. It's time to organise and focus our rage via avenues that produce positive action.
We millennials are a product of the internet, in the sense that we can't even contemplate life without it, but it's time to stop hiding behind a screen and begin connecting on a real, human level, if we can understand one others' opinions and belief systems, then surely, change is just around the corner?
Originally commisioned for ThandieKay
Mothers, Representation, Spirituality, Homosexuality and Islam with Fariha Roisin
Fariha Roisin is the sort of writer, whose output appears pretty intimidating to any burgeoning writing, making you question whether you're really up to the challenge; airing all your inadequacies. Her honest, visceral and beautifully crafted writing reads like prose; carrying you somewhere, intoxifying you along the way and before you know it- you're forced to question some of your own shit.
Her piece on having an abortion at the age of 18 made me weep, truly. I wept in awe, but also, because it felt like it had bubbled up and poured out of my inner self. Fariha bravely and unapologetically expressed some of the common conflicts tied up in the abortion decision process; "I wanted to cut it out of me… I wanted to string out the life and pound it out of my hollow self." And the universal unuttered confession/resolution- "But I loved my baby, for what it's worth, I just loved my freedom more"-that ultimately overrides when women come to the decision. Essentially, Fariha will go where many of us are afraid to venture, saying things that feel uncomfortable at first, but have maybe just been lying dormant and unexplored deep within us.
Fariha's chronicling of her fraught relationship with her mother and her mental illness has, unsurprisingly, won her a lot of fans, and helps elucidate the cycle of abuse implicit within intimate relationships with those suffering from mental illness. In doing so, she highlights the importance of self-care and love within such relationship constructs…
"I remind myself that she is a person, and I try to see her in the soft light of all her misfortunes. In this moment, she is a person, with no adjectives, no titles, nothing attached to her… I've hated her for the mother she couldn't be, but what if I could love her for the complicated person she is?"
Her spirituality underscores her sense of self. Labelled as "outspoken" and an "activist"- a title that doesn't sit right with her, Fariha approaches her grievances from a place of positivity and optimism, rather than pure cynicism, which is refreshing considering the current cultural climate which champions individuality, often for the sake of separatism. She has openly expressed her conflict with Islam strictures, due to her homosexuality, and in doing so has formulated a personal spirituality, rooted in her Islamic/Pakistani heritage whilst accommodating of her liberal millennial lifestyle and outlook.
What does representation mean to you? And how do we go about truly achieving equal representation?
Representation, to me, is about ensuring that not just a select few have access to platforms, especially in realms of storytelling. This is particularly an issue within Film and Television (but just look at the spread for British Vogue of all the editors and such, like that's embarrassing! So fashion continues to be a problematic space) where people of color, trans and queer, disabled folk have access to telling their stories. What's frustrating is that it's not like Hollywood and co don't use stories about marginalized groups of people, take a look at The Danish Girl, a story about a trans woman... where Lili Elbe (a trans woman) was played by a cis, straight white man. What's more damning is the need for these white directors, producers, casting agents to co-opt stories of marginalized folk whilst erasing us from our own stories. Like Ridley Scott, dude, why make a film about Moses if you're gonna cast Christian Bale? And then why say nobody would watch a movie with a "Mohammed so and so..." Damn, the industry is incorrigible.
And yet... I'm surprisingly still hopeful. I think it's about making diversity a real issue, and ensuring that every writers room, every masthead has a significant amount of people who aren't white, or cis, or straight, or able-bodied, etc. The myth that these institutions tell you is about "Affirmative Action" when all of these people are in positions of power through nepotism and wealth... it's laughable.... and hella transparent.
How do you feel about being labeled as an 'activist'? Is it a daunting title to uphold?
Yeah, I hate the title. My good friend ShiShi Rose and I recently talked about this, about the label of an activist and the pressure put on you for being such. ShiShi is way more impressive than I am, and also a black woman, and I think there are extraneous pressures put on her for that alone. I think people expect you to be perfect, and subhuman... like when people drag "their faves" or tell people they're "cancelled" for doing one thing that maybe was problematic. It's deeply troubling. My other friend Vivek Shraya and I have talked about this, too. I think people that have come for the three of us forget that we are people, that we are women of color figuring it out. Instead, to the public, you become an object, pliable to their wants and needs. And it's like, fuck that.
Where do you find the strength to speak about personal experiences and tricky taboo topics such as abortion, the estranged relationship with your mother, or reconciling your faith with your homosexuality?
My strength (although it hardly feels like that sometimes) comes from knowing that I had nobody for a long time. Still, to this day, talking about my mother is deeply challenging to friends because it's really unrelatable. I even have a hard time talking to my partner about my mother because there's no commonality between our experiences with our mothers. Literally two weeks ago I broke down in my room in front of a bunch of friends and had to explain how isolating it is to pick your mother up from suicide, and to nurse her wounds when all you want is to be loved and held by her. And that haunts me. It's been a constant nauseating cloud this whole year... because a few days after my birthday my mother tried to kill herself, and I had to help her out of it. It's a lot. So, I guess, I write for myself, a younger or imagined self. Writing has always been confessional to the deepest parts of me that want to feel loved, and want to be accessed.
You've previously said that your appreciation of arts and media became a "source of lifeblood," how has it helped formulate your sense of self?
Well, I just naturally gravitated to the arts. My mother is an artist, so I had access to a lot of art as a kid. Which sounds glamorous, but we were always struggling, and I grew up in poverty for the first half of my life. My dad was a lecturer, and the breadwinner, and a Marxist, so we weren't really surrounded by nice things... which I think increased my appreciation for such things, and the arts always seemed like a gateway to be the ideal version of myself. Like, I remember looking at design magazines and reading interviews with Zaha Hadid and being so inspired that a Muslim woman was so cool and artistic. So in that sense, it is lifeblood. It sort of grounded my intention as a child, and I always had a very specific idea of what I wanted, and who I wanted to be. So I was always strange, and always into what I liked... watching Wong Kar Wai movies at ten, and so and so forth. It wasn't cool when I was a kid, but it's how I found myself.
You've spoken out about your conflict with accommodating your sexuality with your religious upbringing and forging your own notion of spirituality. I can imagine this is a common millennial conflict more generally; reconciling faith with modern modes of living, why do you think this topic isn't discussed more?
I think we are devoid of spirituality as a species. Period. There's no care anymore. Everything is a fake alliance or a fake friendship. So we've lost what it means to be spiritual beings. Take religion out of it if it doesn't work, but remember your higher self.
What common misinterpretations of Islam bother you most?
There are so many! Firstly, that it's barbaric. Secondly, all the bullshit and stupendously offensive shit people will tell you about the hijab, or the burqa. It's like, if it bothers you, just don't think about it! It's not for you to "understand." I think people feel really comfortable with their uncomfortability of Islam, without understanding how much that it's a farce sold to us by the US government, that it's Orientalist and in fact modern propaganda. Reading June Jordan right now, and she has so many rad essays about the Muslim world (and about womanhood, or being a black woman, etc) and it never ceases to amaze me how people refuse to understand the context of Islamic terrorism and conflate everything Muslim with extremism. It's boring... and it's virulent. I guess that's why I write so much about the Muslim identity. We've all been fed Islamophobia and it's time Muslims really spoke for ourselves so we can get out of this Western Imperialist funk!
Finally, what are your hopes for the future, both on a personal level, and in the global sense of what do you hope will be achieved in your lifetime?
I think for the world to properly, effectively, historically dismantle white supremacy.
It's a big ask, but I think as vicious and terrifying as the times are, I think it's a crucible, and if we sway it in the right way there will be a beautiful everlasting bricolage of change. I do believe this, and I will continue to believe this, I hope, until I die.