In Conversation: Katy Hessel, Founder of Great Women Artists
Katy Hessel started @thegreatwomenartists in 2015 and in two short years has amassed a loyal 10k following of keen art fanatics, feminists and intrepid art explorers. Katy originally created the account upon visiting Frieze masters and noticing the lack of female artists represented in the massive art fair. Named after the iconic and groundbreaking 1971 essay by (the late, great) Linda Nochlin, 'Why Have There Been No Great Women Artists?' Katy picks up where Nochlin and the Guerilla Girls left off – continuing the cause and translating it into a visually edifying cyber gallery, which is palatable for our social-media driven era – providing a 'daily dose' of female art.
This week, Katy is presenting her first self-curated exhibition at Mother London, 'The Great Women Artists: Women on Instagram' made up of artists she has found and connected with via Instagram. We caught up on the eve of her opening to talk about how social media is affecting the art market, sisterhood and female camaraderie, and who she believes to be the current rising female talent in the art world.
Charlie Siddick: Do you think the art market is becoming more accepting of female talent?
Katy Hessel: If you look at auction prices, female artists are still undervalued in comparison to men, but part of the problem is education and the way in which the story of Art History was originally written. There are only a few female artists who really succeeded in achieving great critical acclaim and financial success. Feminism and representation are common topics in public discourse today, but still, the way in which group exhibitions are curated; men are clearly favoured. So part of it is about educating people that great women artists have always existed but more importantly – achieving visibility for the current female artistic talent practicing today.
CS: What made you decide that now was the time for you to present an exhibition?
KH: Since starting the Instagram account two years ago I have connected and communicated with a wide variety of female artists. It seemed to make sense to expand the project from something 2-D on a screen into a physical exhibition. Seeing these works in an exhibition space will give the viewer a greater understanding of the technical processes involved and also some of the works are massive, compressing them onto a tiny screen doesn't always do the art justice.
CS: Do you think Instagram is a legitimate platform for the arts?
KH: Absolutely; some of the world's biggest artists (Ai Weiwei, etc) now have a huge online presence. I think to ignore the power of social media would be to ignore a major facet of modern life, and therefore artists use Instagram to participate in this mode of the digital age. The format of Instagram lends itself to the art world; visually the layout echoes a physical gallery space, making art easily consumable. Social media gives artists from disparate parts of the world the opportunity to be visible and represented in the art sphere, which historically has been seen to be elitist and non-inclusive – so in a way, Instagram is functioning to make the art world more democratic.
CS: What would you say to critics who argue that presenting artists in isolation with their gender, or perhaps race, is limiting rather than inclusive?
KH: I think that, due to the historic lack of representation for female artists over the centuries, the art world still needs to play catch up and therefore they are deserving of a separate space to bridge this gap. I think it's dangerous when galleries try and group female artists as having 'female themes.' What I've tried to show in this exhibition is the diversity in subject matter, technique and visual codes explored by the artists. Yes, it's all art created by women, but each artist has their own clear and unique voice and intention. It's exciting because historically, female artists tend to garner success and appreciation retrospectively – after they've passed – but all of the artists here are at the beginning of their career; it's really exciting to be present and a part of their journey.
CS: What have you learned during the process of organising the exhibition?
KH: Practically, I've learnt the physical processes involved in curating an exhibition, deciding on the hang etc. I have a degree in Art History and currently work in marketing in a gallery, so I've translated some of that knowledge and skills. But most of all, I've been struck by the supportive nature of women, there's been no competitiveness or bitchiness, just mutual admiration; watching this female network develop and grow is really beautiful to behold.
CS: Tell us a bit about the artists in your exhibition and why we should be following them on Instagram?
KH: Juno Calypso (@junocalypso) and Maisie Cousins' (@maisiecousins) photographs address the extreme sides of femininity, from Calypso's highly stylised pictures depicting the effect of physical consumption on women to Cousins' refreshingly real take on femininity with her almost erotic close-up imagery of female flesh, flowers and fruit. Alice Aedy's (@aliceaedy) photojournalistic-style portraits document the women she meets in Iran and Somaliland.
Alice Joiner's (@alicejoiner) intimate portraits explore women growing into their own body and sexuality. The phenomenal success of Unskilled Worker's (@unskilledworker) paintings (having recently collaborated with Gucci) is due to her unabashedly beautiful, meticulously detailed and expressive take on portraiture.
Button Fruit (@buttonfruit) uses fleshy tones and expression in her small, animated portraits. Antonia Showering's (@antoniashowering) texturally rich and layered paintings of people, and the classically-trained form and line that informs Kate Dunn (@bellissi.mama)and Venetia Berry's (@venetiaberryart) studies of the body.
Alice Skinner (@whothefuckisalice) interweaves art historical context into her modern-day and politically driven digital artworks, while Charlotte Edey's (@edey_) illustrations explore the nuances and hypocrisies of casual blame in the historical tapestry medium.
Fee Greening (@feegreening) creates modern-day icon images, playing on religious iconography and traditional printing techniques but updated with current and relevant role models for our modern times.
Article originally commisioned for XXY magazine
The Tortured Artist, the Relationship Between Mental Health and Creativity
The idea of the 'tortured artist' has been romanticised and proliferated since at least the Renaissance period, when post-enlightenment, humanist thought became more widespread and topical. This change in cultural climate coincided with the increased status and to some extent, newfound celebrity of artists. Whilst those involved in the arts were previously seen as mere craftsmen, artists began to be recognised as 'geniuses,' celebrated for their unique and insightful perspectives on the world. Over the centuries the story of artistic genius has developed into one of a double-edged sword; with the gift of insight comes too, the great gilded gift of suffering; or so says the story of art.
The list of examples is longstanding and diverse; Picassorestricted his palette to hues of blue when he sunk into a three year period of dark depression; Munch painted The Scream after suffering an anxiety attack which he described as "an infinite scream passing through nature"; Milton wrote Paradise Lost after losing his wife, daughter, and his eyesight; Hemingway's ongoing relationship with depression and schizophrenia – which is discernible in his direct and detached writing style- and resulted in his alcoholism and eventual suicide; Sylvia Plath's unremitting battle with mental illness and trauma, crudely and frankly chronicled in The Bell Jar. That's not to mention the fabled and mythologised '27-club' of exceptional musicians, prematurely lost to depression and drugs, who have gone down in cult history as heroic legends: Cobain, Joplin, Winehouse, Hendrix and Morrison– to list but a few.
In my mind, the connection between artistic talent and suffering is due to two factors: the artistic process necessitates a certain introspection, reflection and sensitivity, both on existential world-issues and personal emotional conflicts, and secondly, the often tense and fraught process of artistic creation and the subsequent projection of that work into the public realm- opening it up for criticism from all angles- must surely, always feelpainfully personal. Most importantly however, what we can really learn from art is that mental illness is a part of the human condition, one that can be fulfilling and inspiring, and art itself is a means for healing. Plato called it when he philosophised that poetic ecstasy is the only source of divine truth, "madness is a gift from the gods,".
"I do not believe in the art which is not the compulsive result of humanity's urge to open its heart." Edvard Munch
When people ask why I'm so obsessed with fine art, I most often respond by saying that viewing Art is a magical, spiritual experience, a 'good' piece of art (of course, good art is entirely subjective) will transcend time and relate to the viewer the essential, universal and ubiquitous nature of being human. I'm not religious, but give me a good Pieta and I can fully relate to- feel even- the Madonna's grief and sense of anguish.
I always cite my first interaction with the majestic emotional gravitas of Mark Rothko's Seagram murals, enclosed in a chapel-like space within the hallowed halls of the Tate Modern. Rothko was originally commissioned to create the works for an upscale New York restaurant, but upon their completion felt that the wealthy diners of the Four Seasons wouldn't appreciate the complexity of the paintings; they deserve and require the viewers full-bodily contemplation. The paintings are dark, all encompassing and sublimely terrifying, "lovely in their oppression, erotic in their cruelty." He ended up bequeathing them to the Tate, where they arrived, rather symbolically on the morning of his suicide. Hang around long enough in the Seagram room and you'll probably catch someone (quite possibly me) shedding a tear. Poignantly powerful, they strike at humanity's core,complex in the same confusing and clouded way feelings of sadness ensnare one. Rothko laid himself bare and basically allows or encourages us to feel.
"Making art is hard."- Richard Prince
In 1514 German artist, Albrecht Durer created an allegorical engraving depicting a specific form of artistic depression, referred to at the time as- 'Melencolia I.' Humanist writer, Corenelius Agrippa had discerned three diverse forms of depressive states of mind and 'Melencolia Imaginativa' was the one which Durer was most taken by, as it was held by artistic types, who Agrippa argued were specifically subject to their 'imagination' predominating over 'mind' and 'reason.' Within the image there are a variety of symbolic references relating to creative inertness, the despondent winged-figure being an allegorical figure of 'Genius' itself. The discarded tools, the hourglass running out, the emaciated dog, the mystical magic square and the truncated rhombohedra with a faint memento mori skull on one side, are all symbolic of unfulfilled artistic potential. So much so, that many Art Historians have argued convincingly that Melencollia I, is actually a self-portrait of Durer, created shortly after he noted in his diary- "what is beautiful I do not know."
This piece is not unique, countless artists have dedicated work to the notion of the torment of creation. The trajectory of creating a work of art is fraught with emotion and inner-arguments of self-worth; failure is an inevitable part of the process- and a necessary learning device. "I am distressed, almost discouraged, and fatigued to the point of feeling slightly ill. What I am doing is no good, and in spite of your confidence, I am very much afraid that my efforts will all lead to nothing," said Claude Monet. Moreover, each element of an artistic work is personal and subjective, and holds worth and value to the artist. Therefore, once the artwork in question is then accessible in the public domain, available and open to a critical reception, the artist can be left vulnerable, insecure and embittered.
"That terrible mood of depression of whether it's any good or not is what is known as 'The Artist's Reward'." – Ernest Hemmingway.
The artists 'ego' is an interesting trope in itself, heavily mythologised- a delicate balancing game between humility and hubris- leaving many artists to be characterised as narcissistic or pompous. Narcissistic enough to dedicate their working hours to a deep scrutiny of the human condition, in order to make that body of work available for public consumption! A noble act if you ask me. Art critic, Johann Wolfgang von Goethe argued that the artist's ego must be inflated, "Bravado aside, ego must still prevail: For a man to achieve all that is demanded of him he must regard himself as greater than he is."
"Artists make themselves very vulnerable. And I find that super heroic."- Elizabeth Peyton
Ultimately, whilst the process of creation may often perpetuate some forms of depression, it can simultaneously encourage and inform a process of personal healing for the artist. Clinical research into art itself as a form of therapy is still very much in its infancy, but initial studies have found that patients with mild forms of mental health conditions tend to respond well to treatment involving artistic exercises as the tactile and cognitive process of putting pencil to paper is thought to unlock the unconscious and aid expression. Moreover, the psychic process of simply viewing art is seen to be beneficial for mental health issues; a study conducted in Australia argues that those who dedicated 100 or more hours per year of arts engagement (about two hours a week) reported significantly better mental wellbeing than those with lower levels of engagement.
24 year-old London artist Alice Joiner found expression and a sense of understanding for her mental-health condition via her photographic output. Alice suffered from eating disorders from the age of 13 and began documenting her journey through photography, more as a visual diary than a preconceived artistic endeavour. Meanwhile as the complicated illness took over Alice's psyche her artistic output began to suffer; she was training as a painter, but said she felt 'lost as an artist' and confined and limited by the medium. It wasn't until she began studying at the Slade, after her recovery, where she was taught the value of photography within the artistic hierarchy, that she gained awareness of how powerful and beneficial the series of photographs could be if she was willing to express to an audience the narrative and struggle inscribed within the images. Alice talks of the sense of isolation, fear, confusion and intense depression present within the images that she only became aware of with the benefit and space of hindsight. "I had essentially been depicting my slow death," she says.
Photography became a way out from the eating disorders and her artistic struggles, as she was able to emancipate herself from her formal obsession with the line and technique. With her camera, she gained the freedom to move and connect with the world again. It was at the Slade too, where Alice found a sense of validation in the work of contemporary documentary photographer, Nan Goldin, who is celebrated for her authentic, visceral, and often, dark work, which in a similar way explores the mental health issues and trauma associated with Goldin's closest circle. Alice now presents this series under the title, 'An Emergence of Being' and uses the images in a meditation session she runs for others recovering from eating disorders. For Alice, the work is an acknowledgement of eating disorders as a form of mental illness, an awareness that is severely lacking within the media and our education system.
"Art has always been the raft on to which we climb to save our sanity."- Dorothea Tanning
The relationship between art and mental health issues is a fraught and complicated one; it is hard to separate cause and effect and discern whether mental illness informs the artwork or if the process of artistic creation heightens such difficulties. However, the power of art lies in its ability to express the inexpressible and explore the depth of human emotions. The art world accepted, and even celebrated, 'mental illness' as real, long before the advent of modern psychology, and in doing so, gave countless viewers a sense of security and a space of sanctuary for when they've felt misunderstood and alone.
Originally commisioned for XXY magazine
Byron and Aphrodite: The Creatives Defying Gender Roles
Artists Byron Newman and Aphrodite Papadatou, separated by a 40 year age gap and brought up within contrasting cultural climates, met through a family friend and quickly connected over their shared punk and anti-establishment ideologies. Aphrodite told Byron of her ongoing artistic project in which she paints intimate single-portraits of the drag queens closely connected to the 'Sink the Pink' cultural movement. In response, Byron talked through a series of photographs he had taken in Paris in the early-1980s, of a transgender prostitute community largely made up by immigrants from the South American Diaspora. The works were published in 1984 as a book entitled 'The Ultimate Angels', accompanied by interviews with the women and Byron's then wife, French film star, Brigitte Ariel. It quickly became apparent that not only were these separate bodies of work connected thematically, but both series were borne out of a shared desire to portray the reality of outsider, marginal and sub-cultural communities. As Aphrodite put it, we have "a similar voice but from within different eras".
Byron grew up in the era of glam-rock, of pushing the boundaries of sexuality and androgyny, as well as the period in which the women's liberation movement was beginning to make headway. The two ideologies are connected and pertinent for the artist and his artistic output. For Byron, his notions of 'gender' and 'sexuality' always were, and are, more fluid than his conservative counterparts. His earlier work was focused on musicians such as David Bowie and Iggy Pop – figures that were present within his cultural circle and pushing the boundaries of appropriateness and masculinity. He went on to do some social documentary work, whilst also working repeatedly for the erotic French magazine, Lui; it is within these milieus that 'The Ultimate Angels'series can be contextualised.
At the time, the term 'transgender' hadn't been invented, which goes to show just how marginal the subject was and how provocative the publication must have been at the time it was released. Despite a surprisingly positive critical response at the time, it is surprising Byron's images aren't more widely known or circulated. Published nearly a decade before the cult classic documentary "Paris is Burning", which focused on the New York drag ball culture and community of the late 1980s, 'The Ultimate Angels' photographs are an earlier and equally important social document of the emergence of transgender culture, that seeks, in a similar way, to give the subjects control of their identity and representation. As Byron explained, "the idea of the book was not to titillate, but to show people how these women genuinely lived." He claims there was no sort of aesthetic intervention on his part as the artist, and that he simply recorded what was there, although he admits that this was partly due to the fact that these subjects were difficult to control as they had a such a fixed idea of what they wanted to look like.
Most of the photographs are taken in the womens' "dingy and decrepit" studio rooms where they lived as a community, although occasionally Byron would photograph them within spaces, which were aspirational for the women, such as music and theatre venues. These photographs appear powerful and progressive even today. The sense of a pre-conceived and articulated form of self-representation is reminiscent of Cindy Sherman's work, in the way in which the women appear playfully performative yet steadfastly self-assured.
For transgender women who make sex their trade, the study of women is a necessary and all-encompassing pastime; performance and exaggeration are a product of this analysis. Byron said a paying client and the "promise of sex was essentially a vindication of their femininity." He says that the women were successful at their trade, suggesting this was due, in part, to the Parisians' forward-thinking ideas surrounding sexuality and sex, but also due to the fact that none of them had fully transitioned and were able to cater to men's 'marginal' sexual desires.
Despite these transgender women being immortalised as commanding and potent 'angels,' what has stuck with Byron is not their grace or sex appeal, but their harrowing back-stories. With LGBT rights very much in their infancy there was also no surrounding narrative or vernacular to support these women, instead they fostered their own communities and safe spaces where they could achieve some semblance of freedom in self-expression. Self-inflicted silicone implants were widespread, as was backstreet surgery, and the AIDS epidemic was at its height. Moreover, most of them were illegal immigrants, always in fear that they might get sent back home. When speaking of their sad situation, Byron pauses and ponders whether any of these women could possibly have survived such low-standards of living, "they've all, almost certainly passed". Redolent of Roland Barthes' notion is that all portrait photographs are essentially indexes of death that leave a trace of the person who once existed; Byron's powerful images of transgender angels, represented how they wished to be represented, are pertinent and personal documents with great posterity value.
Aphrodite Papadatou grew up between her native Greece – which instilled in her a free-thinking outlook and gave her a natural grasp for lofty philosophical and humanist concepts – and England where she is now based. Her father was a strident political activist and instilled in her a strong sense of determination and empathy for the 'outsider'- who she says is also, ultimately, herself. For Aphrodite, falling into the Sink the Pink crowd early on, before the gentrification of east London, was like finding a family of happy outcasts, bonded through a similar sense of not belonging within 'mainstream' culture. Whilst the Sink the Pink drag collective has become a phenomenal success, Aphrodite admits the early days were tinged with melancholy in a similar vein to that of Byron's Angels, most of the queens were from small towns and felt alienated as "they were the only gay in the village". So they moved to London to find a sympathetic and progressive community where they could express themselves freely.
At the Herrick Gallery exhibition, Aphrodite is presenting a mixture of her Sink the Pink portraits and some works directly inspired by Byron's 'Ultimate Angels' photographs, although as she explains, all her work is deeply personal and therefore implicitly a subjective interpretation, an "amalgamation of my identity and history" woven into vibrant and psychedelic mural paintings.
Aphrodite's work is reminiscent of the German expressionists, especially that of Egon Schiele and the way in which he represented his models as painfully thin and in order to articulate certain ineffable emotions. For Aphrodite, her use of thin figures within her portraits is due to the ambiguity imbued in androgynous body-types; she is interested in the subtlety and similarity suggested via this aesthetic. She also argues that when drawing people the experience becomes personal and meditative, and the sitter ultimately becomes a mirror onto herself, becoming a self-portrait in a sense. In both her art and her everyday interactions, Aphrodite doesn't contemplate upon or distinguish gender, and instead attempts to elucidate and celebrate our similarities rather than differences. In this sense, the 'fluidity of the line' is a fascination for the young artist, both in a practical artistic sense but also the performative fluidity of gender. We spoke at length about our joint distaste for the current trend to categorise sexuality and gender, agreeing that it often engenders separatism and marginalisation, rather than understanding and cohesiveness – which surely must be the original aim? Aphrodite laments the politics involved in the subject, suggesting that it is really "society honing this sense of sexual difference."
Aphrodite's use of bright colours, intricate patterns and symbology communicates a message of positivity; they are unabashedly joyful and celebrate the brave and triumphant nature of her sitters. The colours are also reminiscent of the aesthetic of drag culture today, unashamedly bold and playful, she suggests that this "disguising of pain with pop colours" is not a pretentious act, but authentic, and lends itself to a total freedom in representation. In this sense, the works inspired by Byron's photographs have developed into an amalgamation of signs and subjectivity, eradicating the aura of pain present in the photography, and amplifying the Angels' triumphant energy. The portraits of the Sink the Pink Queens are focused on the figure's sense of fluidity, performance and elucidate the sitter's spirit as a unique aspirational entity. Aphrodite says they're all just "aspiring to be human and happy," and suggests that this desire is implicit within the human psyche and is relatable to everyone. This sense of empathy should connect us, in spite of whatever 'gender' or 'sexual' separatism is being proliferated in the modern-day media. Aphrodite's artistic work contributes to a discussion towards inclusivity and understanding, due to her sympathetic and empathetic eye and painter's touch.
Originally commisioned for XXY magazine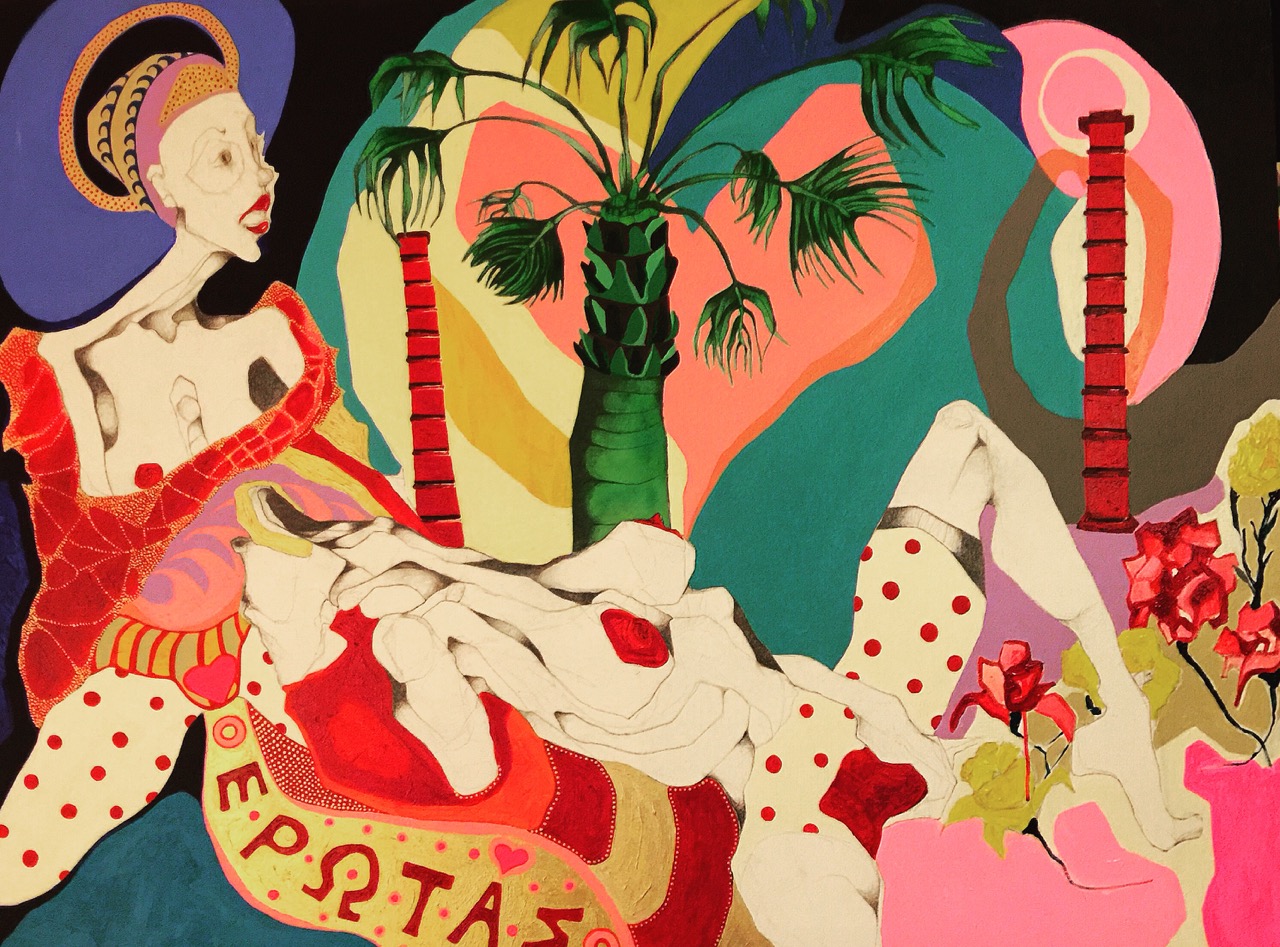 Press Release for Megalopolis at Yamamoto Keiko Rochaix
Working and habituating within a bustling Metropolis engenders a specific mode of living and experience. With the mass-migration of populations from rural areas to cities that we witnessed in the 19th century, and due to the unrelenting pace of industrialization and modernity, modern metropolitans worked hard to defend their freedoms and sense of individuality within this new environment of mass-homogeneity and anonymity. Georg Simmel discerned that "The deepest problems of modern life flow from the attempt of the individual to maintain the independence and individuality of his existence against the sovereign powers of society, against the weight of the historical heritage and the external culture and technique of life." This notion of a resistance of the individual to being levelled, swallowed up in the social-technological mechanism is obvious today; our culture of social media has given life to a new form of self-representation, one in which the 'self' and its view of the world is perpetually being reformulated and reimaged, often at an alarmingly up-to-the-minute pace.
With these new modes of self-representation and individuality, the physiological foundation, upon which the metropolitan individuality is erected, is the intensification of emotional life due to the swift and continuous shift of external and internal stimuli. Thus the metropolitan type (which naturally takes on a variety of guises) creates a protective organ for itself against the profound disruption with which the fluctuations and discontinuities of the external milieau threaten it. Rather than reacting emotionally, the metropolitan type reacts primarily in a rational manner, and in doing so, has created a mental predominance through the intensification of consciousness. With this quickening of experience and over-exposure to external stimuli it has become commonplace for urbanites to close themselves off from their outside environment and in doing so we lack appreciation for the great cities we habituate.
During the period of industrialization and mass-modernity of the Victorian era, writers, artists and scholars attempted to capitulate and accommodate this new form of living. Edgar Allen Poe imagined London as a great human heart in his seminal Man in the Crowd (1840), with the various catchment areas symbolically described as ventricles and arteries; the streets and alleyways were seen as pulmonary veins, which propelled and pumped the population through the city. At the same time, in Paris, Baudelaire conceptualized and coined the notion of 'flaneurie' a metropolitan-type who happily takes on the role of detached observer within the masses, "Jostled, pushed and shoved by the seething urban crowd, the city dweller must remain every vigilant, constantly on guard and alert. In the midst of the crowd, the individual is bombarded by a plethora of unassimilable stumuli." Both writers impress on their reader, the possible pleasures available to those who observe, "For the perfect idler, for the passionate observer it becomes an immense source of enjoyment to establish his dwelling in the throng, in the ebb and flow, the bustle, the fleeting and the infinite."- said Baudelaire.
In our modern and often depressing times, it is important to take heed of such notions; to open oneself fully to momentary and transitory experience. A way in which artists are responding to such modern conflicts, and more specifically, as a response to the plethora of information one is confronted with on a daily basis, is to make art as spectacle. Tied up in the historical tradition of art as a form of protest and rebellion, making art which stands out and captures the imagination and attention of the viewing public can be a way in which artists respond to the struggles associated with urban living. It is in this way that MEGALOPOLIS a group of young artists examine the pressures of living in London.
In Conversation: Charlotte Colbert
Charlotte Colbert is a young artist practicing in London. Her current show at UNIT9 is dedicated to a single large-scale, moving image and mixed media sculpture depicting a reworking of Lucien Freud's iconic portrait of Sue Tilley. The original painting 'Benefits Supervisor Sleeping' was a record-breaking feat, fetching £35 million at auction; the highest price ever paid for a piece by a living artist.
Colbert's sculpture- despite its domineering presence and cyborgian post-apocalyptic form- is beautifully tender; creating a soothing sense of a familial and palpable human presence. The film element shows Sue's bisected body naturally moving; shallow breaths forming in the stomach, encouraging the breasts to fall and rise- captured with life-size clarity, as are toe twitches, and the alarming moment when Sue snaps her eyes open, greeting the viewer with a respective gaze. "I break up the body parts as an expression of our relationship to the world, which is a very fractured one. Screens play a role in that- the fractured self- is due in part, to our relationship with technology."
The film footage is in black and white, a conscious decision on Charlotte's part, "because I feel with technology as soon as something is produced it is almost immediately outdated. Modern society is always playing catch-up and grasping for it. It's sort of always eluding you in a way." The nostalgic feel that black and white film creates is contrasted entirely by the material form of the piece "I encased them in the heaviest material I could think of." The metal construct has an aged and rusted appearance; as if it has weathered decades of use already or has been uncovered from the earth. Paradoxically, appearing modern whilst remaining archaic. Another project Colbert is currently focusing on; is a series of everyday object, which she dips in clay, creating an imprint of the physical form. Such as women's underwear: "I was thinking about the idea of Pompeiian artefacts, the notion of what traces a society leaves behind. Today? Probably not that much physically, because it all exists via the Internet."
I asked Charlotte how her Benefits Supervisor Sleeping sculpture came to fruition, the artist had tracked down Tilley and was remarkably given access to Freud's studio before it was gutted for good- "the paint splatters on the floorboards would've been the same as when Sue sat before." Sue hadn't been to the studio for 20 years, "going up the stairs, laying her body in a particular way brought her back to the original experience with Freud." Was it nostalgic for her? I asked- "No, when she sat for him it was 9 months and I think it was quite torturous for her. He was very intense."
The works connection and intersection with the history of psychology is pertinent for Colbert, "It's super interesting how both Sigmund and Lucien had these crazy intense relationships via a sofa. In both of their practices it's a very significant thing." The artist and her team remade the couch to exacting standards in order to match it with the original one from Lucien's studio and painting. "The whole process seemed thematically linked. As a conduit in the relationship between artist and muse and the space that exists between them, and in some ways it's not hugely dissimilar to the relationship between analyst and patient. In the way that the relationship isn't a direct one, like in the sense that we're really looking at each other now; but you're either separated by the canvas or the back if you're sitting on a couch, which interrupts the intimacy as such."
Psychoanalysis is a clear strand of interest within Charlotte's work, she's currently preparing some pieces for another upcoming show, which involves artists reworking and painting phallic forms. Charlotte's contributions are remodelling phallic sculptures sheathed in tactile fur fabrics, which she has entitled "Womb Envy" a combatative stance against Sigmund Freud's now widely discredited but pervasive Penis Envy theory. "With Sigmund and the birth of early psychoanalysis, so much of it seems to be more to do with his own issues, rather than his patients. A lot of it is projection. In the same way, portraits are often so much more to do with the artist rather than the sitter. Which is what is amazing about using moving-image, you get more of a response from the model. There's a point where Sue opens her eyes and it feels like she's judging you almost."
For me that is what's so powerful about the piece; it feels as if it purposefully disrupts the traditional relationship structure between voyeur and subject- that historically has been so problematic in its distribution of power. I asked Charlotte whether she felt the piece is so sensitive due to the nature of it being formed from a female gaze, "I don't know, I haven't thought about it like that. I don't know whether the female gaze is any less imprisoning than a male gaze, because there's always a form of objectification at play, just by looking at someone." Charlotte's piece depicting Sue Tilley naturally encourages such questions on the relations between viewer and subject- intimacy and surveillance. Indebted to the history of art but entirely contemporary and forward thinking in its form.
'Benefit Supervisor Sleeping' by Charlotte Colbert runs until the 18th Feb at UNIT9, Ebor St
Originally comissioned for XXY magazine
The Pink Panther Show
In our increasingly homogenised society, the 'Art world' is constantly forced to evolve and respond to the impact of social media and the phenomena associated with the Internet. From the 21st-28th of February, a show of 16 artists pieces, come together for 'The Pink Panther Show,' which was initially triggered by an Instagram story proposal.
The concept is simple and intriguing, each artist must create a work, inspired by the well-known cartoon character The Pink Panther. The artists are all at different stages in their careers, using different mediums, have different areas of interest and consequentially create entirely different aesthetics. Ultimately the nature and range of artistic difference can be explored through the enforced use of a uniting, friendly feline muse. The show is being presented in an old Whitechapel house, which has a maze-like layout, encouraging the viewer to partake in their own detective work and fully explore the immersive space.
In the original film, Ponton tells Inspector Jacques Clouseau: "You never cease to surprise me, sir." To which the Inspector responds: "With me, surprises are rarely unexpected." With all the artists working independently, responding to the subject matter through their unique subjective lenses, surprises are rarely unexpected, indeed.
The versatile character of the Pink Panther supplies a fitting area of exploration due to his multi-faceted personality.As Victoria Gyuleva, editor of dateagleart says; "it combines mystery with humour, crime with performance; it disappears and re-appears all of a sudden, and lives in between fantasy and reality." The artists must use anthropomorphic techniques and language to enliven the otherwise mute panther, drawing on the real-life crime stories of the Pink Panther gang as well as the classic cartoon series.
In the art world, whose critics claim it has created an elitist environment, replete with pretentious acts; The Pink Panther Show intends to be purposefully playful and ethereal. The mood is fun and light, the image of the Pink Panther has an inherently Pop aesthetic. The show is ephemeral and short-lived, much like the character who suddenly vanishes after the film credits, the exhibition will last just long enough to let the works engage in a dialogue with the space: "to make visible the common traits among the different practices that only the Pink Panther can enable."
Photographs by Ekphrasis © dateagleart 2018
The Pink Panther Show is on from the 21st-28th of February at Gallery46 curated by dateagleart
In Conversation: Maria Kreyn
This May, Russian born and New York based artist, Maria Kreyn will have her first major show in London, entitled Polyphany. Maria's work is unusual and unique within the contemporary art market; she paints like an Old Master, having received her training via old school art apprenticeships throughout Europe. Likewise, on first glance, Kreyn is engaged with traditional subject matter- interested in the aesthetics and stories imbued within Christian mythology- however such stories are reinterpreted and reconceptualised; by "investigating our own time through the use of old-world tropes… I'm trying to build an original language through collating, imagination and citation, a sort of remix of past and present."
I've always been fascinated with the way in which mythology and story telling has functioned within past societies. My formative studies in Art History were an awakening as to how Christian iconography was used as an educative mode for the illiterate, religious masses. Saints were aspirational figures precisely because they were imperfect beings that found the path back to their Higher Selves. And in this way, art was used as a means to illustrate the stages and archetypes of initiation; coming of age stories that encourage a lucid approach to living. I've often wondered whether the lack of myth today as a guiding, instructive force is part of the reason why we're living in such a fractured, tense, impersonal and separatist moment in history. Maria's work reawakens the power of myth as an important learning device, one that is as urgently salubrious today as it were in the past.
How do you think myth functions in our contemporary society?
I was quite hesitant about incorporating Christian mythology within my art at first. But in a way I think that's what's so salient about our culture- because we don't have anyone telling us what our story is anymore, we don't have an organized religion that gives us an overarching structure for our understanding of mythology. Or a common iconography that we share, a book we can all refer back to, or an A-Z of stories. So now, when we see mythology it's in the form of fragmented visual cues, they're like little hints. Playing with that is really interesting; because you can't deny that these myths exist but you also can't say you know exactly what they mean.
How does this fragmentation of subject matter and symbols come to fruition in your creative process?
It's what's so interesting about working with these old-school motifs, taking these stories and reframing them within a context that is more free to think outside of the parameters of the specific tale, I'm free to pick and choose elements, and sort of collage them. And essentially I'm taking these religious figures and de-religioning them; humanising them- making them people. I rework religious subjects into very non-religious contexts, but they hold on to the aesthetic or 'tip their hats' to the entire period of Old Master painting, because I just think it's so beautiful.
Your work certainly speaks to the Baroque period, and painters such as Caravaggio, what inspires you from this period of art history?
Baroque painters were masters of using light and shade as dramatic cues as a way in which to invoke certain emotional states in the viewer. Religion was ultimately this veil, or superstructural starting point for these artists, as that's the economic system they were working within. Ultimately the ones that really excelled in their craft were those who were concerned purely with moving people.
There's a reason why those paintings are drawn so beautifully: where you just see a hand or something and it breaks your heart- like in the best way possible. If we can draw from that wisdom but reframe it in a contemporary, and, sometimes whimsical way, you get something really profound.
Your paintings are so technically polished and emotively charged that they have a transportative and meditative effect that is so contrasting to modern modes of living, is that purposeful?
We live in an increasingly mechanized world. As everything gets more compartmentalized, mechanized, and done for us- I think there's increasingly parts of us that are missed. So yeah, I'm speaking to those things, speaking to those very private moments, in an environment where privacy becomes very scarce, even when you're alone your privacy is scarce, because now we're thinking 'ok this is what's happening to me now, how do I share it?' and not always in a positive way.
I think I'm trying to recapture a moment that sucks you in, and transports you. Turns the volume down on all of that low frequency stuff, and sort of just collapses time. Those pure moments of presence. And hopefully within that vacuum of presence, there's enough content within them to aesthetically and emotionally engage you.
I want to create these moments for viewers where they're essentially communing with themselves and the magic of art, and living.
Those artists were also masters in exploring the depths of particular emotional states, and so too does your work, specifically intimacy, what attracts you to that area of the human condition?
A lot of the work has to do in some way or another, with intimacy. And it's quite literal and specific, an episode of the breaking of intimacy, of something being there and also not being there, this ambivalence. The sense of both; strength and weakness, dominance and submission- at the same time, duality in force. I haven't seen much of that within art history, particularly in regards to women. When you take them out of being a prop and you give them a sense of agency, and you dig into the notion of not being quite sure. Because we sometimes aren't, even in like a deep state of love you still know you are just your own human and you can't fully connect with someone else. And you also have this apprehension of should I be here? Should I not? Right? I don't think that's really ever been properly elaborated on, especially through the lens of a woman and her experience.
It's true, the idea of ambivalence, and not knowing hasn't really been explored within art history, perhaps because it's seen to lack gravitas, why do you think it's an important subject?
I feel it's important to address the contradictory psychological states that we can have, to resituate modes that have been misinterpreted as forms of weakness. It's the stuff I'm interested in cause that's the stuff I find in my own head- in that meditative flow state when I'm working. I'm just kind of realising there are so many thoughts flowing through, and we're kind of like these mythology-making, thought-making machines. We're clearly having these dialogues within ourselves but we look like we're these singular entities.
So through this exploration of complex emotions are you ultimately trying to cultivate empathy?
I think that's the point for me- of painting in this way where the people look really alone in the work- is to activate a very profound sort of empathy.
That's what's so interesting about our current times, now as we 'gender bend' in our culture. Like how recently our language has become more rigid and precise, as we're trying to figure out the complexities of gender, it would be interesting to attempt to look through different eyes. Not 'male gaze' or 'female gaze'. I mean, imagine what that could feel like? Because I think we probably all have a plethora of views inscribed within ourselves to some extent, or at least, they can all be cultivated through empathy.
Maria Kreyn's inaugural show with Heist Gallery, 'Polyphany' will open on the 10th May at the Welsh Chapel in London.
Interview originally commissioned for Schon! magazine
A Universal Gaze: Coming to Terms with the Current Predicament with Gender
"The test of a first-rate intelligence is the ability to hold two opposed ideas in mind at the same time and still retain the ability to function." – F. Scott Fitzgerald
The term "male gaze" was first coined by film critic, Laura Mulvey in her essay, Visual Pleasure and Narrative Cinema in 1975, where she boldly argued that the "gaze is property of one gender" and that the notion of a "female gaze" exists only as "a mere cross-identification with masculinity". The male gaze is generally seen to be the act of depicting women and the world, via visual arts and literature, from a masculine heterosexual perspective that presents and represents women as sexual objects of pleasure for the male viewer. The male gaze directly implicates three different perspectives within any given image: that of i) the creator of the work ii) those of the characters within the representation and iii) that of the spectator. At its most extreme and destructive, the male gaze can be comparable to a form of Freudian scopophilia, whereby sexual pleasure is derived from observing the passive female as purely a sexual object.
The late, great John Berger popularized and expanded on the idea, and in turn made the notion of a "male gaze" mainstream in his iconic, Ways of Seeing:"According to usage and conventions which are at last being questioned but have by no means been overcome—men act and women appear. Men look at women. Women watch themselves being looked at." Berger was rightly responding to the countless images we find in Renaissance artwork specifically, which often posited women as objects of desire for male artists and viewers to visually consume- a form of (religiously sanctioned) soft-core pornography. The women in such paintings lack agency and that's why they can cause discomfort, when viewed by our generation.
The idea of studying art history or visual theory nowadays without accommodating the presence and proliferation of "male gaze" imagery that has flooded the visual field is practically unthinkable- to dismiss the notion is to miss the point completely and to glaze over the obvious disparities in depiction between the sexes over the ages. When I was studying, the term male gaze was a powerful weapon and tool to criticize a man's artistic output, working most effectively with pre-20th century art (work created prior to the Women's Liberation Movement, more specifically), but could actually be applied (even if sloppily) to any man's artwork, even if it didn't depict a woman. I'd haphazardly litter my essays with the term, using it as a means to vent my angry feminist sensibilities and to avenge the undervalued women found within such images. But the state of gender relations has seismically progressed since the 70s and the output of second-wave feminist theory in which this terminology was originally borne out of; even though we still apply the term in the same way- and to artworks made in our markedly more progressive, contemporary culture.
We now live in a world where men and women are more equal than they have ever been. Fact. A world that has become so fixated on not causing offence to those that were previously overlooked or subjugated, that we've become obsessed with creating increasingly specific definitions to accommodate certain social positions and perspectives. My feeling is that quite often this engenders separatism between the sexes (emphasising difference) rather than unification. If you speak to men about modern feminism, even those who are entirely for equality, feel threatened by the language utilised in feminist rhetoric. Male artists are painfully aware of the privileged position they've held over the centuries; many are ashamed of it and wish to sensitively shed their silver spoon- and are still being hurled the same denunciative critique. In contrast, female artists are currently enjoying their newfound recognition for possessing a vital perspective and recent reclamation of space within the art world. It's been a long time coming. And quite rightly, women should take some time to bask in the sunlight of appreciation, but one must not forget that a woman's vision is not a revolutionary act in itself, a female gaze has always existed and it comes with its own deductive qualities and its own set of projections.
When I interviewed Charlotte Colbert earlier this year I was struck by her honesty when she said, "I don't know whether the female gaze is any less imprisoning than a male gaze, because there's always a form of objectification at play, just by looking at someone." In a sense, this notion sparked my desire to write this piece; to open up an honest dialogue about the nature of gendered art criticism and gazes- drawing upon conversations I've had with young, contemporary artists practicing today.
Photographer Alice Joiner's work is intimately engaged with her female gaze and came to the medium as a result of a self-documentation process during her recovery from anorexia. For Joiner, the issues associated with gendered gazes are due to ownership and awareness, "I think that the notion of the 'female gaze' highlights a sense of ownership of the female standpoint which is crucial to finding equilibrium within our society. I do think that gender is fluid, but considering the nature of art and artists consistently referencing art history, it is imperative to specify and take ownership and responsibility for our work and the topics we are sharing. My work for example is about women, female sexuality and honouring strength, fragility and empowerment and the female gaze within this context underlines a sense of strength."
Similarly, painter and printmaker Venetia Berry's work also actively takes on the staid notion of a "male gaze" and gives prominence to a more sensitive "female gaze" by purposefully reimagining the aesthetics associated with the female nude. I asked her how she'd feel if a viewer discerned a clear female gaze within her work: "I would be delighted. One of the main aims of my work is to reverse the age-old 'male gaze', and allow women to reclaim their gaze. I want to desexualise the female nude in art, celebrating women of all shapes and sizes, rejecting the patriarchal expectations of women in society today." Berry suggested that the notion of gendered gazes within art and criticism nowadays still has its place, "as it educates us, as to where the view is coming from, and allows us to have a guess at their life experience. However, I think it is important not to generalise or prejudge individuals, particularly with the male gaze, which is often portrayed in a damning light."
In a similarly sympathetic way, painter Kate Dunn suggested that, "there is a worry that by adding the notion of the 'female gaze' to a piece of work, it becomes elevated without question, equally, the opposite to the notion of 'male gaze' (when paired with a male's work) and it then being disregarded. Ultimately, I am not against gendered criticism, but attempt to question its relevance and intention." Kate has recently moved away from portraiture/figural depictions in her artwork, and has been exploring abstraction and the tactile manifestations of paint and materials. Interestingly, she explained how nowadays notions of gender only surface in her work in abstracted terms too, "There have been days where I have specifically set out to make a 'feminine' painting, involving notions toward a 'feminine' aesthetic. But really all that means is that I am using colours that we associate more with the feminine than the masculine. The marks themselves I believe have no gender." This reminds me of how Clement Greenberg attempted to frame formalist pursuits and abstract expressionism- the work of Pollock and Rothko and the gestures they made with their brushes- as being, somehow, peculiarly masculine, and aggressively so. This notion feels regressive nowadays too; it would be seen as a huge shortcoming to suggest that a woman's hand inherently rendered a more 'sensitive' or 'soft' touch.
When I spoke to Billy Fraser about the nature of such criticism within arts education he told me how being one of the only white heterosexual male in his year meant he was regularly thrown the 'male gaze' critique, despite not always depicting the human figure in his work. In this sense, the consideration of such theory plays a part in his creative process, "it would be ignorant to assume the artist could make works outside of his or her own condition. When making an artwork you have to be consciously aware of the art context and history in which the artwork will exist. Male or female, you have to consider the connotations and nuances of something so subjective… it's a creative mind-field the artist has to tiptoe through."
Painter Leo Arnold explained how for him, the notion of gendered gazes is a systematically inscribed issue and in this sense the artist shouldn't necessarily attempt to negotiate it, "Politically speaking I don't have much of a problem with the notion of a gendered gaze. The political problem as I see it is in ubiquity. The male gaze is not innately wrong; I see nothing wrong with a heterosexual man expressing his sexual desire toward women for example. The problem is that this angle is ubiquitous and in its ubiquity has oppressive effects (constraining paradigms of beauty etc.). We just need a diverse representation of artists' expressions of sexual desire not mainly heterosexual males. This is more a systemic problem than an artistic one to me."
This seems to me to be the key point, with either male gazes or female gazes, the importance is diversity in representation of a wide-range of perceptions. A truly intersectional gaze would attempt to dismantle the inherent power structures by accommodating an array of narratives or perceptions, rather than placing some on a pedestal due to their gender origin and denigrating others on the same grounds. My fear with the growing trend in all-female art shows is that, if a female's work isn't in dialogue with a variety of artist's work then it might be criticised as existing in a vacuum or echo chamber; i.e an insular feminist orientated bubble that isn't open to external forces. Having said that, I have been to some really beautiful all-female art shows and I think they're integral to the precise times we're living in where visibility is accelerating progression, but I don't believe them to be the future. In the sense that nowadays there would be mass outrage if a gallery announced a purposefully all-male line up- for me progression means equanimity in the truest sense- and equal representation for all. Opening up awareness through multiplicity.
We all personally have to come to terms with the current predicament of gender and functioning purely in the arena of definitions and inscribed meaning is a painful burden to bear. By unilaterally emphasising difference and insisting that the male and female gaze cannot be reconciled, then what real hope is there for achieving true equality? Subjectively the art that has truly moved me is the type of work that aspires to a universal gaze or awakens a greater understanding of the multi-faceted nature of humanity. Great art connects and enlightens by collapsing superstructural boundaries through the expression of a pure communion with direct experience. Whichever gender it is derivative from, beautiful and moving art will quiet down outside noise and bring one to a place of greater understanding and sensitivity- work that takes the female experience as its cue will ultimately enlighten the viewer as to how it might feel to be a woman- essentially obliterating the biological and rhetorical parameters placed upon gender.
Painter Maria Kreyn, whose work deals with modernising mythological constructs and archetypes, expressed the idea perfectly: "That's what's so interesting about our current times, now as we 'gender bend' in our culture. Like how recently our language has become more rigid and precise, as we're trying to figure out the complexities of gender, it would be interesting to attempt to look through different eyes. Not 'male gaze' or 'female gaze'. I mean, imagine what that could feel like? Because I think we probably all have a plethora of views inscribed within ourselves to some extent, or at least, they can all be cultivated through empathy."
Originally commissioned for DATEAGLE ART
In Conversation: Derek Ridgers
British photographer Derek Ridgers has as impressive career spanning over four decades, having taken portraits of many of the world's most influential creative talents; James Brown, Johnny Depp, Clint Eastwood, Frank Zappa, Prince and John Lee Hooker, to mention but a brief few.
However, it's his intimate photographs of London subcultures that Ridgers is most beloved for; his images, which chronicled the birth of punk and skinhead culture during the late-70s helped transform public opinion of such groups; bravely attempting to demystify and decriminalise their misunderstood mainstream image. He honestly portrayed the hedonism and angst, but most importantly their humanity. It is within such work that one can overtly see how Ridgers was initially drawn to photography through his pure and unadulterated love of music.
Music critic and collaborator, Michelle Olley spoke of the atmosphere inscribed in such work, "Every midnight tribe is here – hippies, punks, ravers, goths, teds, mods and every pretty boy and dirty girl in between, shot in situ in their un-natural habitat. [His work] manages to bring the glamour vixens and club kids together, creating a heady mix of reportage and eroticism. Uniquely, this is 'thrill of the moment' erotic realism, coming as it does directly from the subject, and not the photographer. He shoots it as he sees it, which makes this a rare and precious record of a certain kind of cheekiness, at a certain point in the evening, at a certain time in history."
His new book, Derek Ridgers- Photographs presents some of his unseen work originally commissioned by magazines like i-D, The Face and NME, Ridgers calls this his "other photographic odyssey." The book launch is accompanied by an exhibition, coinciding with frieze weekend, called the Derek Ridgers Pop-up (5th Oct-7th Oct, Old Truman Brewery), which will present some of his most intimate portraits of the great stars of music, screen and even politics.
When I asked Ridgers about his take on celebrity portraiture- considering he's photographed some of the greatest and most celebrated creative talents of recent history and we're now living in an era of increasingly vacuous 'insta-fame' that values aspiration instead of creativity- it was interesting to hear that despite his impressive resume he felt he'd missed out on the great years of celebrity portraiture too.
"Eve Arnold photographed Marilyn Monroe over a period of 13 years. So it's hardly surprised she got a lot of great photographs of her. Likewise Elliot Landy, who shot the cover of Bob Dylan's Nashville Skyline became friends with the singer. They hung out and went fishing together. That kind of access to a subject can't do any harm can it?
By the time I started doing it in the early 1980s, celebrity photography was usually not like that. The celebrities would normally be holed up either in a suite at The Savoy or The Dorchester and each magazine or newspaper would get half an hour. So that was usually 25 minutes for the interview and 5 minutes for the photographs. Sometimes photographers could be set up in an adjacent suite and the celebrity would be lead in by a PR person and lead out again a few minutes later, just as one felt one was getting started. It's not a very edifying experience. For anyone.
If you can beat that system or find your way to manipulate things to make for a better, more meaningful photograph - as some do - then that's where the skill comes it."
Therefore, the intimate and candid portraits of celebrities found in 'Derek Ridgers- Photographs' and at the accompanying exhibition are truly a testament to his artistic prowess and creative talent. In any case, as we live in a society where increasingly people aspire to earn star status and a living by posting selfies and displaying themselves; Ridgers' work speaks about the changing nature of celebrity and the loosening relationship between talent and fame.
Derek Ridgers- Photographs by Carpet Bombing publishing is available now and the Derek Ridgers Pop up is presented as part of Artblock at the Old Truman Brewery from the 5th-7th of October.
Originally commissioned for Schon! magazine
In Conversation: Maryam Eisler
London-based, Iranian-born Maryam Eisler is a dynamic and multi-disciplinary figure in the contemporary art world: a photographer, patron, editor and publisher. She sits on the board of the Tate's International Council, is co-chair of the Tate's MENAAC acquisitions committee, and sits on the advisory board of Photo London and as a trustee of the Whitechapel Gallery. Eisler has a magical way with words, exuding a humble intellect that has the ability to dissipate any sense of difference and penetrate to the core of artistic psychosomatic complexes. It's no surprise that she counts many of today's leading artists as close friends and confidantes.
In recent years, she has been making a concerted effort to nurture and cultivate her own creativity, which finds it's most beautiful and poignant outlet via the medium of fine art photography. All of her work focuses on the female figure, which is desexualised yet still sensualised through her tender gaze, encountering and exploring the greater thematic framework of the Sublime Feminine, which encompasses folkloric, mythological storytelling and- "the role of women in the Universe and expectations that are placed upon women, their role; Mother Nature, Mother, Temptress, Lover, Muse, Intellectual, Professional… all of it. And how all of that relates to your minute tiny self. What are your visions? Your legacy? What your past really means? How does your femininity relate to the land?"
Eisler's most recent project took her to legendary photographer Edward Weston's home in Carmel Heights, California. With the aim to re-imagine the passionate love affair and revolutionary Mexico years shared with fellow artist, muse and activist Tina Modotti. Weston's home is now lived in by his grandson, Kim Weston- a fine art photographer in his own right- with his wife Gina, who have kept it relatively untouched, as Edward left it over 50 years ago. Much to Maryam's delight, even the darkroom remains intact, with many of his formulas and ratios left pinned upon the wall.
I asked Maryam what impelled her to make this photography series, having had a long-standing obsession with Weston's photography, she felt drawn to their relationship due to Tina's revolutionary sensibility. "It was that revolutionary period where they took off to Mexico that really enticed me, because I lived through the beginnings of a revolution as a child, and I remember that tumultuous way of life. You read these great Romantic novels, which take place during revolution, and they move us because everything feels heightened, especially the notion of impermanence, which intensifies the lows and highs associated with love." Their love affair was intensified by the couple's intersection with political activism. Mixing in the same circles as Frida and Diego, Neruda and so on, relationships weren't thought to be mutually exclusive and Tina is thought to have had an affair with Diego whilst they were there, "so there was a lot of flow, intellectual flow and otherwise."
"So I spent a wonderful time there, working with a model who's a dancer, I barely ever focus on the face, I like to keep it impersonal, focusing more on muscular dynamics, the geometry of form- that body architecture; the curves and the lines- the flow." It's interesting to see a female photographer taking on the genre of female nudes, the notion of a female gaze tends to eradicate the idea of sexuality being in play, but Maryam's work sings of a softer sensuality, and ultimately- sentimentality. Whilst working on this project, Edward's spectral presence was felt, almost as a guiding force: "in this case it was almost like an out-of-body experience of me transposing myself into his gaze, looking at this woman and imagining how he might have felt…it became more soulful, rather than sexual."
There's a beautiful quote by Weston, explaining a specific moment shooting Tina, and their passion and intimacy with one another shines through: "She leaned against a whitewashed wall- lips quivering- nostrils dilating- eyes heavy with the gloom of unspent rain clouds- I drew close to her- I whispered something and kissed her- a tear rolled down her cheek- and then I captured forever the moment- let me see f.8-1/10 sec. k1 filter- panchromatic film- how brutally mechanical and calculated it sounds- yet really how spontaneous and genuine- for I have so overcome the mechanics of my camera that it functions responsive to my desires..." Expressed here is Weston's fanaticism for technicality and his ability to capture the exact moment that has the power to move. I asked whether Maryam related to this duality of technique and sentimentality: "despite all that stickling for technicality, and light meters and f stop whatever, which is totally necessary, and I underline that material is necessary for you to achieve a good photograph. However, I think, the difference between a good photograph and a bad photograph, never rests on technicality, I am absolutely convinced that it relies on sentimentality and emotions. He mentioned the moment, it really is that moment, and not that +1 or – second, the Infinite moment, the Absolute moment, where you see it and grab it with all of its intensity, with all the emotional content that it has, or it passes you by and it becomes a bad photograph."
Maryam Eisler's "Imagining Tina: A Dialogue With Edward Weston" is being shown at Tristan Hoare Gallery in London until the 2nd of March
In Conversation: Kate Dunn
Freedom through materiality: British artist Kate Dunn exploring identity and a sense of self through the tactile qualities of paint.
I've known artist Kate Dunn for just over a decade now, she is one of my oldest and closest friends and it's been beautiful witnessing the transformation of her artistic style and in turn, transformation of self. Kate has always been an artist, and a serious one at that- a typology I'd discern as a constant questioning of one's own experiences, inner landscape and physical reality. Her artistic language has evolved and morphed through various manifestations, unsurprisingly due to her variegated education and travels. She has recently moved into her first studio on her own in East Ham, through the company Artcore; a visual arts charity, which amongst other pursuits, helps provide affordable studio spaces for creative's around the country. The studio is an amazing space with high ceilings and lots of natural light; it feels tucked away and secluded from the abrasive energy of London. Since this move, her work has taken on a more introspective and reflective quality. Her initial training gave her remarkable Realist technical skills, but since, she has taken it upon herself to deconstruct, undo and 'unlearn' the strictures that were placed upon her. In doing so, she's fostered a new visual language based on an abstract materiality, which has led her to a newfound sense of freedom and dialogue of feeling.
Kate Dunn (b.1993, Edgware, London) studied at Central Saint Martins, London, The Florence Academy of Art, Italy and gained an MA from City & Guilds of London Art School, London. She has exhibited in the United Kingdom and Italy, in shows such as The Summer Exhibition at the Royal Academy, The Great Women Artists Exhibition, Mother London and The Contemporary British Painting Prize 2018, Huddersfield Art Gallery. Residencies and prizes include The Fourth Year Prize at The Florence Academy, Italy and The Great Women Artists x Palazzo Monti, Italy. Kate Dunn currently lives and works in London.
BACKGROUND, TRAINING & FORM
You have had a diverse arts education studying at various levels in London, Florence and doing residencies in China and Italy, How have your studies informed your practice?
Doing my foundation at Central Saint Martins was a learning curve in the sense that we'd spend five days coming up with a concept and then have two days to actualise it, I realised that in order for me to make work where the concept and idea was that strong, my skill would have to surpass itself, so that it would become a shorthand almost. After my foundation, I was desperate to go to Glasgow, but didn't get in, so I decided to go and do a short course in technical drawing at The Florence Academy of Art. Whilst I was there, the teachers were encouraging me to apply for the full training and I found that my skill and craft were rapidly developing… so I ended up being there for four years. It was super traditional training; where you're not allowed to touch paint until you've drawn with charcoal for a year and a half; nude model everyday; sight-size method. The first day that you get there, the director of the school tells you that if you want to be an 'Artist' you should leave now because this is about technical training. Which is not a negative thing at all, because you do come away from it having an incredible skill set. There were moments where I'd question what I was doing and think- am I missing out on the most creative years of my life here? I started teaching there in my third year and was asked to stay for a fourth year to continue teaching in exchange for a studio. Which was great, but I did end up feeling like I knew I had to leave, for a variety of reasons, but mainly because I always knew I never wanted to be a realist artist. And that's when I came back to London and did my MA at City and Guilds, which completely changed the visual language and form of my work.
How did this culminate in the work and style you produce now?
Just before the MA, I had this realisation that I'd only known paint in the imitation of something else; so paint becoming flesh or paint becoming a cup in a still life. I never really understood what paint as paint was, so I set out to spend the last eight or so months of my Masters trying to grapple with my own relationship with paint. Initially, it felt quite distant from what I'd been doing, but actually it was a direct result of my training in Florence, as I wouldn't have necessarily gone down that path if I hadn't felt it was something I'd never explored before. And this resulted in a series that I'm still working on now- the arch paintings; they originally took their shape and size from Fra Angelico's frescoes in Florence in San Marco, where he painted a different fresco in each monks cell. I think initially I started cutting this altarpiece shape because I was really interested in having a dialogue with this period of history which is so present in Florence, there's practically an altarpiece, Madonna and church on every street corner. There's all of this incredible imagery which subconsciously forms part of an archive in your head, so I found that even when I started making these more material based works, for some reason, I kept thinking back to all these religious icons and images that I'd seen in Italy. In a sense, my MA show ended up becoming a homage to the time I'd spent there.
I guess when you're in a city like Florence you end up taking this formalised/symbolic visual language for granted, and it's not until you return to a Metropolitan city like London that you become aware of how cut off we are from a centralised form of religion or spirituality. Would you say this is a guiding framework to some extent?
I'm using quite obvious religious references within my work; or they're obvious to me- but I guess once you take the figures out and abstract the subject to the extent that I do, it's harder for people to connect with that framework. A lot of people think they're windows as well, which is interesting in itself. But I think generally when you talk about art there is an innate link to spirituality. As an artist, you've given yourself this journey of wandering and wondering through things for the rest of your life, this quest of exploration. And it's sort of analogous with the quest for spirituality in a sense. I think that when you encounter great art it can have a profound, transcendental effect- nothing else exists; you can lose your sense of balance, your eyes can get tunnel vision and I think that is relative to the type of experience you can have in a spiritual/religious context. Just like when you go into a church and the quiet, contemplative and intimate experience that it cultivates.
Do you think that's the power of great art?
I like to feel something. However, I'm also very interested in materials, so often my brain bypasses that possibility of feeling before I can even get there because I'm dissecting something; I think that's quite a natural thing as a maker. However, I think if something can make me feel something now, then that's amazing, I get that so much less now than I used to- partly because of that deconstructing thing- but I am also a sucker for something that is really material based and I suppose what I've learnt, is that through materiality there is a huge vocabulary of feeling that even though it may be abstract has enormous possibility and power.
I guess when a work is figurative it makes it easier for the viewer to relate to. Do you ever think you'll return to figurative forms?
Probably. Maybe. I don't know. I think in some ways the works are still figurative. They're very bodily, especially the works I'm making at the moment, a lot of them are made using my hands, so I think the presence of the body is still very much within the work. The reason why I stopped depicting the figure was partly to understand my relationship to paint, but I think also what I came to realise is that with figurative work it's such a literal language that I felt I had to have something specific to say and I feel like what I'm trying to understand now is so much more abstract than that. And I think I'm discovering new states of feeling and experiences via this abstract language.
PROCESS
Tell me a bit about the process of conceiving and actualising the work?
It's never exactly the same; I don't do studies though, probably because of the aversion I've built up towards them from my studies in Florence! With these works I usually start with a phrase, a feeling, or a colour; or several of those elements that I know I want to work with. Often poetry and music come in to that. I'll normally have one element of the painting in my mind, for instance, I might be able to see there will be an area of light and it's going to be overtaken by darkness, and I'll have an idea of what those colours are going to be and then I have to work around that with the rest of the image, and as I'm going forward with that I can relate it to a personal experience of mine; maybe a relationship or an experience within the studio itself, it could be an interaction, it could be many different things.
With figurative work, I can imagine it is easier to find an end point- once you feel a likeness has been achieved- whereas with abstract work it must be harder to walk away because you could continue to add and subtract endlessly?
I think overworking can definitely be an issue. I'm usually searching for a feeling that I'm hoping to convey within the work and I'll rarely achieve it precisely, but I'll stop either when I've discovered a feeling that I hadn't expected at all or one that I've never experienced before. I just try and trust my instinct; working very aggressively and fast and then take a step back and see what happens. Also, when I was on my MA and using a lot of paint, I'd have these experiences where I'd be putting on the paint and having these very physical and visceral reactions- I'd literally be wretching in response to the medium. I think you just know when it's doing something and you know whether you like what it's doing or you don't. And even if I don't I may just leave it, and let it sit for a day or two.
What drives your work?
No work is ever made in isolation, it's always reflective of everything you've seen, made or experienced. My work is also driven by my time spent in Italy- but perhaps more as a structure to work against rather than within. The drive itself also emanates from my attempts to understand my relationship with the medium. It's no coincidence that since I've moved into a studio on my own- which takes me some time to travel to; where I wont really speak to anyone at all, all day; since this experience of greater isolation the work has gone from being expansive and more external (expansive in the sense of history of art, thinking about theory and my place within those narratives) to insular and internal. I think that's natural after education, where you're in an environment with lots of people who are constantly asking questions about your work. Here its very quiet, and I'm just having this one on one dialogue with the work, and no one can see it for weeks or months if I don't want.
FUTURE
How do you see your work progressing in the future?
I hadn't done any arch paintings since my MA course, and I was suddenly like 'I really want to work on them again'. My brain was saying 'no, you did a whole MA installation show and it was finalised and complete'. Then, I realised I hadn't exhausted it at all; it's just a shape- a structure to work against. It creates a dialogue between a certain period of history, which is probably just indulgent for me to some extent, because I'm not sure everyone accesses that when they see it, but it gives me pleasure. So recently I've been thinking about really exhausting an idea, the concept of exhaustion and pushing and squeezing something, an idea or form till I really can't get any more out of it. One thing I know is that I'll continually do by exploring and investigating my relationship with paint and the different emotions and experiences I can discover through that relationship.
Originally commissioned for DATEAGLE ART
Photography by Vanessa Murrell © DATEAGLE ART 2019